Safety Building Film
What is safety film? Safety film is produced with the same production process as the automotive windshield film or general building film. The difference is a polyester layer added and the amount of special glue provides a strong adhesion property to be more than the general film layer. Adding a polyester layer and the amount of glue will provide greater in quantity of adhesion depending on the level of strength required. The installation of safety film on ordinary windshield helps increase efficiency and the strength to reduce force from external objects in the event of accidents, explosions, earthquakes, storms, etc
The safety film helps to hold the broken windshield or installation area together, depends on the thickness of the area and frame as well. The film prevents danger and the damage of life and property from broken glass. The quality of safety film thickness should be between 1.5-2.0 mm. (.0015 - .0020 inch). Safety film with a thickness of 2.0 mm. will be classified as Class C film only. In the case of a quality safety film, it presents the thickness from 4 mm or 100 microns or over.
*Safety film is not an option to prevent windshield breakage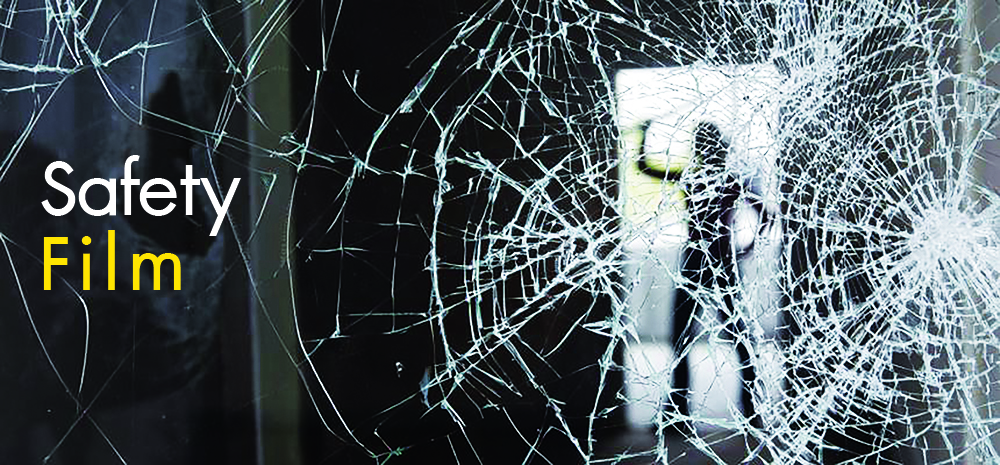 When installing safety film Lamina LLumar, you will benefit from protecting your life and property of you and your loved ones.
Save lives and property from theft, accidents
Save lives and property from natural disasters such as earthquakes.
Save life and property from explosion.
Diminish heat by up to 79% (depending on the film model)
Guard against ultraviolet radiation (UV) for more than 99%
Available in diverse colors and types as required.
Reduce glare, gives a comfortable feeling and reduce eye strain.
Reduce the air conditioner power consuming inside the house and the area, save electricity and preserve air condition working condition.
Promote the good appearance of automotive and buildings
Slow down the fading of interior materials, appliances and decorations
Coated with scratch-resistant crystal, special transparent crystal, easy care, good appearance, and durable
Reasonable prices, certified the global quality standards
Lamina Safety Films are available at over 270 certified distributors and installation centers nationwide gained official certify letters from the company
Building Film and Lamina LLumar Safety Film, trusted by various Building customers
Building film and Safety Lamina LLumar Film are well known and accepted in many countries in Europe and the United States with the variety of building locations installed the building film and Lamina LLumar safety film confidently in quality and trust in the qualifications as a lifeguard protection for personnel and property in that building. Thus, the US Department of State and Corp of Engineers of the United States also foresee the outstanding features and production standards of the Lamina LLumar safety film manufacturer, it is accepted and approved the installation in government offices, major organization, and embassies around the world. In addition, Lamina LLumar is trusted and installed in many principle places worldwide.
For Thailand, Lamina LLumar building film and safety film are widely accepted by both the public and private sectors
, i.e., the Electricity Generating Authority of Thailand, Electricity Generating Public Company Limited (EGCO), Mahidol University, Dhurakij Pundit University. Vajirawutwittayalai College, Siam Commercial Bank Public Company Limited, Black and Kidker (Thailand) Company Limited, Block Buster, KFC, Rama III Tower Building, and River King Boat. Also, Lamina LLumar safety film is trusted and accepted to install in multiple automotive models among brands worldwide.
Models and properties of building safety film
(Physical properties)
Film

Color

Thickness of Film

Single or Multiply

Tensile Strength

Break Strength

Elongation at Break

Peel Strength

Puncture

XSCLSRPS15
Clear film
.015"
(375 micron)
Multiply
23,345
373
149%
>1,550 g/inch
(>3.4 lb/inch)
226
XSCLSRPS11
Clear film
.011"
(275 micron)
Multiply
27,318
301
159%
>1,550 g/inch
(>3.4 lb/inch)
184
XSR20SISRPS8
Silver
.008"
(200 micron)
Multiply
29,505
235
140%
>2,850 g/inch
(>6.3 lb/inch)
146
XSP50NSRPS8
Smoke
.008"
(200 micron)
Multiply
29,505
235
140%
>2,850 g/inch
(>6.3 lb/inch)
146
XSCLSRPS7
Clear film
.007"
(175 micron)
Single
27,614
193
211%
>3,200 g/inch
(>7 lb/inch)
121
XSR20SISRPS4
Silver
.004"
(100 micron)
Multiply
25,714
101
137%
>3,200 g/inch
(>7 lb/inch)
77
XSP50NSRPS4
Smoke
.004"
(100 micron)
Multiply
25,714
101
137%
>3,200 g/inch
(>7 lb/inch)
77
XSCLSRPS4
Clear film
.004"
(100 micron)
Single
33,100
132
167%
>3,200 g/inch
(>7 lb/inch)
74
XSCLSRPS15
Color
Clear film
Thickness of film
.015" (375 micron)
Single or Multiply
Multiply
Tensile Strength
23,345
Break Strength
373
Elongation at Break
149%
Peel Strength
>1,550 g/inch (>3.4 lb/inch)
Puncture
226
XSCLSRPS11
Color
Clear Film
Thickness of film
.011" (275 micron)
Single or Multiply
Multiply
Tensile Strength
27,318
Break Strength
301
Elongation at Break
159%
Peel Strength
>1,550 g/inch (>3.4 lb/inch)
Puncture
184
XSR20SISRPS8
Color
Silver
Thickness of film
.008" (200 micron)
Single or Multiply
Multiply
Tensile Strength
29,505
Break Strength
235
Elongation at Break
140%
Peel Strength
>2,850 g/inch (>6.3 lb/inch)
Puncture
146
XSP50NSRPS8
Color
Smoke
Thickness of film
.008" (200 micron)
Single or Multiply
Multiply
Tensile Strength
29,505
Break Strength
235
Elongation at Break
140%
Peel Strength
>2,850 g/inch (>6.3 lb/inch)
Puncture
146
XSCLSRPS7
Color
Clear film
Thickness of film
.007" (175 micron)
Single or Multiply
Single
Tensile Strength
27,614
Break Strength
193
Elongation at Break
211%
Peel Strength
>3,200 g/inch (>7 lb/inch)
Puncture
121
XSR20SISRPS4
Color
Silver
Thickness of film
.004" (100 micron)
Single or Multiply
Multiply
Tensile Strength
25,714
Break Strength
101
Elongation at Break
137%
Peel Strength
>3,200 g/inch (>7 lb/inch)
Puncture
77
XSP50NSRPS4
Color
Smoke
Thickness of film
.004" (100 micron)
Single or Multiply
Multiply
Tensile Strength
25,714
Break Strength

101

Elongation at Break
137%
Peel Strength
>3,200 g/inch (>7 lb/inch)
Puncture
77
XSCLSRPS4
Color
Clear film
Thickness of film
.004"
(100 micron)
Single or Multiply
Single
Tensile Strength
33,100
Break Strength
132
Elongation at Break
167%
Peel Strength
>3,200 g/inch (>7 lb/inch)
Puncture
74
(optical properties)
| | | | | | | | |
| --- | --- | --- | --- | --- | --- | --- | --- |
| Film | Color | % Sunlight thermal cut | % transmittance | % UV reduction | Shading coefficient of film | % Visible Light Rejection | Solar energy transmission cost |
| XSR20SISRPS4 | Silver | 79 | 15 | 99 | 0.24 | 60 | 12 |
| XSR20SISRPS8 | Silver | 79 | 15 | 99 | 0.24 | 60 | 12 |
| XSP50NSRPS4 | Smoke | 44 | 48 | 99 | 0.64 | 13 | 48 |
| XSCLSRS4 | Clear film | 12 | 89 | 95 | 0.99 | 9 | 84 |
| XSP50NSRPS8 | Smoke | 44 | 48 | 99 | 0.64 | 13 | 48 |
| XSCLSRPS7 | Clear film | 12 | 89 | 95 | 0.99 | 9 | 88 |
| XSCLSRPS11 | Clear film | 12 | 87 | 95 | 0.99 | 10 | 82 |
| XSCLSRPS15 | Clear film | 14 | 87 | 95 | 0.99 | 10 | 82 |
XSR20SISRPS4
Color
Silver
% Sunlight thermal cut
79
% transmittance
15
% UV reduction
99
Shading coefficient of film
0.24
% Visible Light Rejection
60
% Solar energy transmission cost
12
XSR20SISRPS8
Color
Silver
% Sunlight thermal cut
79
% transmittance
15
% UV reduction
99
Shading coefficient of film
0.24
% Visible Light Rejection
60
% Solar energy transmission cost
12
XSP50NSRPS4
Color
Smoke
% Sunlight thermal cut
44
% transmittance
48
% UV reduction
99
Shading coefficient of film
0.64
% Visible Light Rejection
13
% Solar energy transmission cost
48
XSCLSRS4
Color
Clear film
% Sunlight thermal cut
12
% transmittance
89
% UV reduction
95
Shading coefficient of film
0.99
% Visible Light Rejection
9
% Solar energy transmission cost
84
XSP50NSRPS8
Color
Smoke
% Sunlight thermal cut
44
% transmittance
48
% UV reduction
99
Shading coefficient of film
0.64
% Visible Light Rejection
13
% Solar energy transmission cost
48
XSCLSRPS7
ColorClear film
Clear film
% Sunlight thermal cut
12
% transmittance
89
% UV reduction
95
Shading coefficient of film
0.99
% Visible Light Rejection
9
% Solar energy transmission cost
88
XSCLSRPS11
Color
Clear film
% Sunlight thermal cut
12
% transmittance
87
% UV reduction
95
Shading coefficient of film
0.99
% Visible Light Rejection
10
% Solar energy transmission cost
82
XSCLSRPS15
Color
Clear film
% Sunlight thermal cut
14
% transmittance
87
% UV reduction
95
Shading coefficient of film
0.99
% Visible Light Rejection
10
% Solar energy transmission cost
82